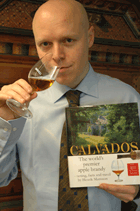 If you have already visited The Gardens House, you may have noticed that it's actually called Calvados and perhaps have wondered what that is and why the house is so named. There's an interesting story about both of these questions.
Calvados is a truly wonderful drink from northern France. It's a double distilled apple brandy. Apples (and in a few varieties some pears) are fermented into cider. This is then distilled into eau de vie de cidre. It's then aged for a minimum of two years in oak. The name falls under the French appellation controllee system and the area it comes from is restricted under those regulations. There's a good general article in
Wikipedia
.
Henrick Mattsson (pictured above) is a Calvados enthusiast and has published a
book
on the drink and the region, even recipes.
My family's link comes from my great-grandfather Louis Jeanne. He was born and raised in
Isigny-sur-Mer
in one of the appellation districts in Normandy. It's not exactly the best known town in France, but Walt Disney traces his family back to Jean-Christophe d'Isigny ("of Isigny") who came from there. Louis Jeanne jumped ship in Melbourne in the late 19th century. The name of the house celebrates that link. The nameplate was originally attached to my grandfather's house in Ivanhoe, Victoria and came to The Gardens when my parents retired here about 100 years after Louis Jeanne arrived.